The Nations Dust - Heute Veröffentlichung!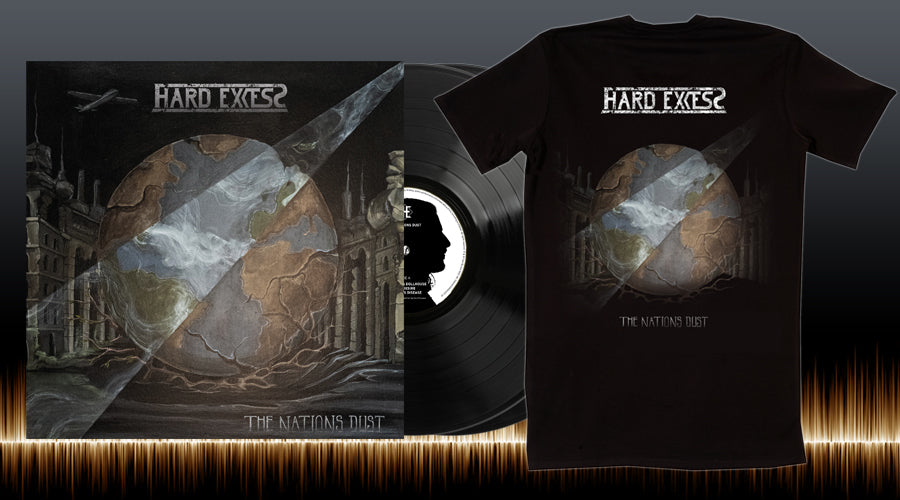 Das Warten hat ein Ende: "The Nations Dust" - das erste Fulllength Album der osttiroler Heavymetal-Truppe "Hard Excess" feiert Veröffentlichung!
Auf dem Album "The Nations Dust" sind ein dutzend Stücke drauf, die zum Headbangen, Mitgröhlen und Abfeiern einladen und wer sich nicht dabei erwischt, dass er während des Hörens die Faust ein paar Mal heroisch in die Luft reckt, dem kann man auch nicht mehr helfen.
Die Scheibe ist seit heute (11.11.2023) im monotonus.shop verfügbar als CD, Vinyl (Doppelalbum) und außerdem kann man auch das offizielle "The Nations Dust" T-Shirt bestellen. 
Aber damit nicht genug - liebe Leute der lauten Klänge.
Auch von der Vorgänger-Single "Slaves Of Hardware" sind noch T-Shirts und weitere Merchandise-Produkte übrig (allerdings ist der Lagerstand bereits knapp und diese Artikel werden auch nicht mehr nachproduziert. Beeilt euch also, wenn ihr noch eines der begehrten Stücke abbekommen wollt!)
Schmeißt euch also in Uniform und besucht die Album-Release-Show, die ebenfalls heute stattfindet im Jägerheim in der Pfister in 9900 Lienz. 
Als tatkräftige Unterstützung sind Circuit Of Agony (Lienz) und Liquid Steel (Innsbruck) ebenfalls mit von der Partie und werden den Saal heute zum kochen bringen! 
Wir freuen uns jedenfalls auf euer reges Erscheinen, denn eigentlich ist es ein Pflichttermin; Der Eintritt für die Release-Show mit Gast-Bands ist schließlich kostenlos.
Einlass: 19:00 Uhr